How to Create Audiences in Zuddl
The 'Audiences' tool lets you create emailing groups based on the different user roles in Zuddl. Once created, you can use it when sending custom emails to a specific set of people in the Communications features. In simple terms, 'Audiences' can also be understood as groups.
This enables you to send targeted emails to a specific set of people without the need for an external email service.
How are audiences created?
Zuddl automatically creates audiences under the Default Audiences tab based on the following categories:
All: This group shows a comprehensive list of all users across audiences. You can filter the list based on Roles and Status.

Status: There can be only two audiences for this category, "Attended" and "Not Attended," which gets created/updated as registrants enter your Zuddl event.
Role: Zuddl creates an audience for each role type. There are six role types in total.

Organizer: created when an organizer is added to a team
Moderator: created when a moderator is added to a team
Registrant: created when someone registers for your event
Sponsor: created when you add a booth owner to an event
Speaker: created when a speaker is added to an event
Ticket type: For ticketed events, this audience is made for each ticket type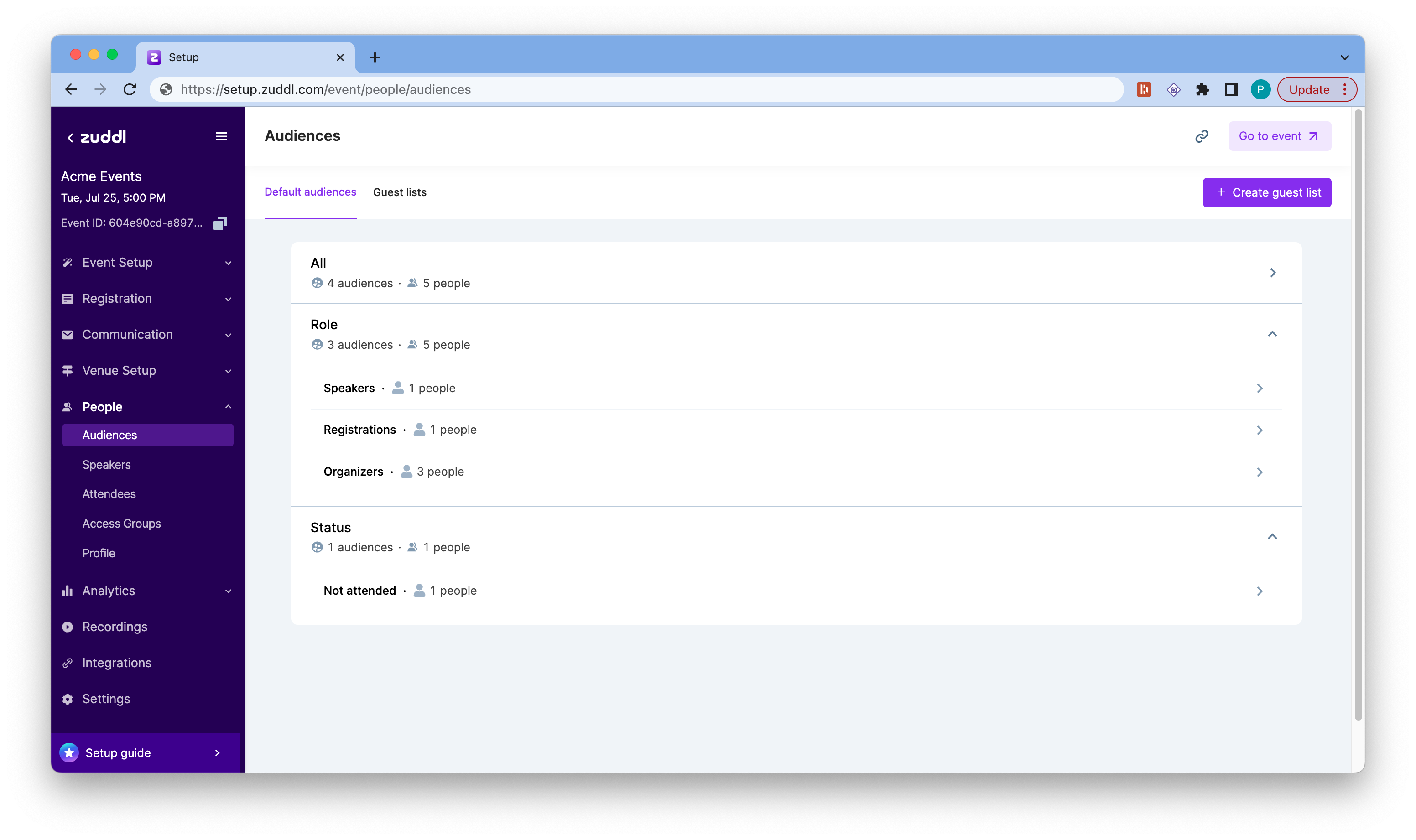 Each category shows the number of audiences and the total number of users.
By clicking on each audience, you can see the list of users and their details, such as Access group, Ticket type, and Status. You can also Download a list in CSV format for an audience.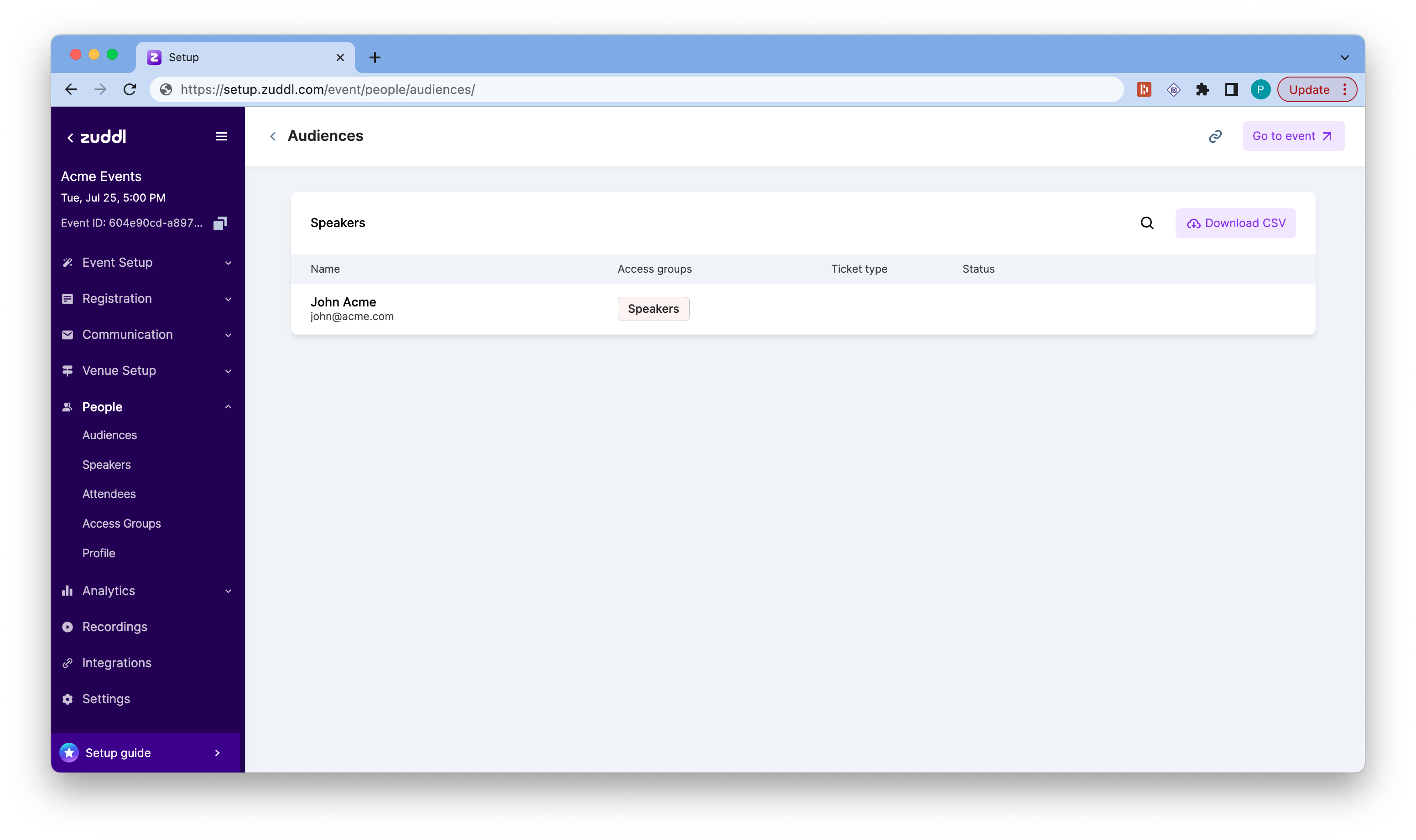 If an audience has only one user, and the same user is downgraded/upgraded, the audience also gets removed.
Create a guest list
A Guest list is a list of email addresses uploaded to Zuddl in CSV format. You can add any email address to create a list for sending custom emails using a guest list. A guest list can be used to send email communication to people who have not registered for an event. For example, you can create a guest list for an event's admin team and send them custom communication, such as event invites, special instructions, and so on.
Learn how to send custom emails via the communication tool.
To create a guest list:
Inside Audiences, go to the Guest Lists tab.
In the guest list form, enter the following details:

List name
Description

In the Import CSV file upload area, drag and drop or Browse the file from your device and upload it.

Ensure that you follow the guidelines to create a CSV file. You can also Download a sample CSV template and edit it.

Once uploaded successfully, click Import.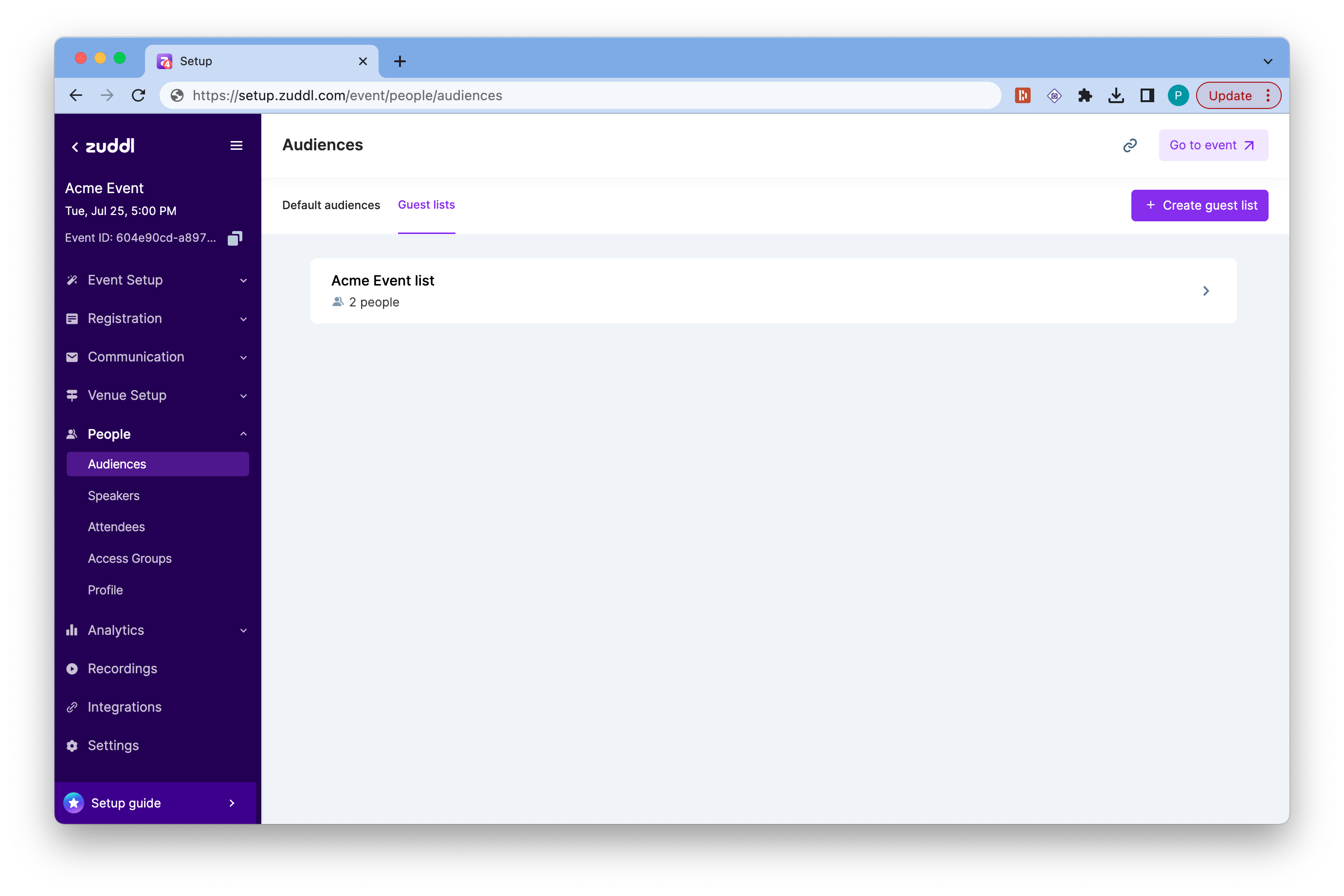 By clicking the guest list, you can view the list of email addresses as shown below: